CHAPRON MYLORD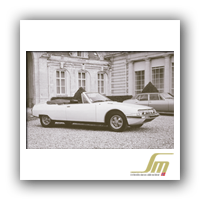 At the 1971 Paris automobile show Henri Chapron presented this SM cabriolet Mylord. Unfortunately the car looses much of its elegance whet the convertible top is raised. The construction of the SM Mylord was quite an extensive job. A coupe body was delivered by Chausson (the body builders of the SM) to the Chapron factory where it was decapitated and, reinforced. Then the car went to Citroën to get it's mecanical bits fitted after which it returned to Chapron for painting and interior fittings. An estimated 7 Mylord convertibles where build by Chapron (4 sold in France, 2 in Spain and 1 in the UK).
- Nummer 1: 00SB4763, 1971 prototype, hvit med sort skinn. Bilen er registrert som nummer 7630 i Chapron registeret. Utstilt Retromobile 2019?
- Nummer 2: 00SC0123, 1972, hvit med grønt interiør. Bilen er registrert som nummer 7636 i Chapron registeret.
- Nummer 3: 00SC0138, 1972, mørk blå med beige interiør. Bilen er registrert som nummer 7638 i Chapron registeret. Utstilt Retromobile 2019.
- Nummer 4: 00SC1361, 1973, sølv med sort interiør. Bilen er registrert som nummer 7643 i Chapron registeret.
- Nummer 5: 00SC2789, 1978, gull med brunt interiør. Bilen er registrert som nummer 7644 i Chapron registeret. Solgt på Retromobile for €548.320 (2014)
Dette er de fem bilene som opprinnelig ble laget, men to biler til ble godkjent og fikk tildelt et nummer i Chapron registeret. Disse er:
- Nummer 6: Bilen er registrert som nummer 7645 i Chapron registeret. Ukjent chassisnummer. Har litt mindre chrome enn de fem første. Laget som kopi av nummer MyLord nummer fire. Ble inspisert og autorisert.
- Nummer 7: Bilen er registrert som nummer 7660 i Chapron registeret. Ukjent chassisnummer. Har litt mindre chrome enn de fem første
Så vi kan konkludere med at det er fem MyLord. Eller kanskje sju. Og mange flere kopier finnes også. Men om du ser en, så kan du sjekke chassisnummeret. 

CHAPRON OPERA

Presented a year after the Mylord convertible at the Paris salon in 1972 this 4 door SM is another Chapron creation. These cars where constructed starting from a complete SM which was cut in two parts. Then the body was stretched and a new rear end attached. The painting and interior where also done by Chapron. 8 Operas were made of which 4 went to Spain. Citroën also worked on a 4 door version of the SM but the project was dismissed as commercially not viable. Some of the work on this car was passed on to Maserati for the original Quattroporte.

HEULIEZ ESPACE

Heuliez one of the oldest coach-builders of France presented the SM Espace in 1971. The SM Espace offers a novel solution to open air motoring. From a rigid center the left and right side of the roof can be electrically and progressively opened. Seven sections on each side, finished in anodized aluminum, can be retracted into the center section. In combination the 4 side windows can be electrically lowered to get an open air feeling. The glass in the rear section was replaced by a Miura style finish in the first car. An interesting purple paint together with white leather upholstery en chrome hub caps made the car stand out. A second prototype with a standard rear end and less lurid appearance was presented a year later. One car is still owned by Heuliez while the other is in private hands.
PRESIDENTELLE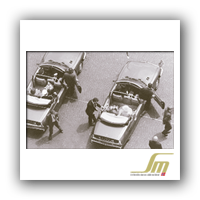 Henri Chapron built 2 SMs for the official duties of the French president. Both were lengthened even more than the 4 door Opera and fully convertible. The cars were immatriculated 2 PR 75 and 3 PR 75 (1 PR 75 was the DS of president De Gaulle). The gearbox was modified so that the car could travel slowly! The visit to France of Her Majesty' Queen Elisabeth II, on 15 May 1972, set the date of the first official outing of the new State convertible of the French Presidency'. This is a special four-door version, with coach- work by Chapron. Registered under the number 2 PR, the car is intended to replace, in the presidential garage, the Chambord convertible dating back to 1959. "Tudor Black" in color (a dark metallic:ed gray), wuh a black hood, this vehicle has an overall length of iS' 41/2" (that is to say 2' 4" longer than the coupe'), but its width (6' 01/4") remains unchanged by' comparison wkh the standard version. The front seats have been moved outwards, and the steering column 2' to the left, to allow for an interpreter's seat facing the passengers in the rear. All mechanical features are the same as in the standard model, but the gear ratios have been modified to allow low-speed running for long periods on end. The SM-type suspension and braking system have been adapted to cope with the vehicle's extra weight.

RACE SM (Jerry Hathaway)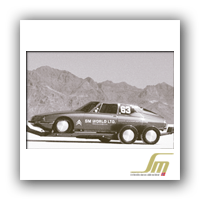 One of the world's leading SM restorer and specialist is SM WORLD run by Jerry and Sylvia Hathaway from their Los Angeles base. Their enthusiasm for the Citroën SM is unparalleled. The race SM holds several speed records and is in the Bonneville 200mph club. With a special version of the Maserati V6 engine equipped with twin turbos top speed was 202,301 mph (323,682 km/h). The work SM features a very special and typical American bodywork: the pickup.